At Spyagency, we understand that embarking on a lifelong journey with someone is a significant decision. Marriage is a sacred bond, and it's crucial to ensure that you are entering it with complete trust and confidence. That's where our pre-matrimonial investigation services come into play. In this comprehensive guide, we will delve into the world of pre-matrimonial investigations, shedding light on why they are essential, what they involve, and how they can benefit you.
Why Choose Pre Matrimonial Investigation?
Ensuring Your Peace of Mind
Marriage is a commitment that brings together not just two individuals but their families, assets, and futures. Before taking this step, it's only natural to have concerns and questions about your potential partner. A pre-matrimonial investigation offers you peace of mind by uncovering any hidden truths, helping you make an informed decision.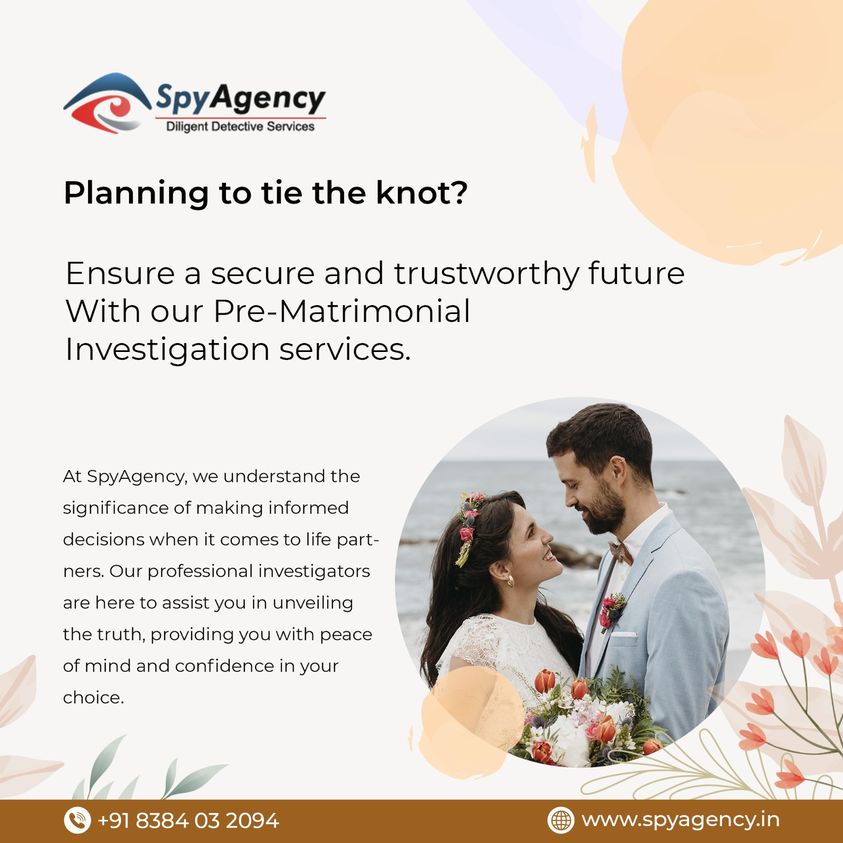 The Scope of Pre-Matrimonial Investigation
Background Checks
One of the primary aspects of a pre-matrimonial investigation is conducting thorough background checks on the prospective spouse. This involves verifying personal details, such as education, employment history, and family background.
Financial Standing
Understanding your partner's financial situation is crucial for a stable marriage. Our investigation will delve into their financial history, including debts, assets, and any undisclosed financial obligations.
Social and Personal Life
A person's social life can provide valuable insights into their character. Our investigators discreetly gather information about your partner's social circle, habits, and any potential red flags.
The Investigation Process
Surveillance
Surveillance is a critical component of our pre-matrimonial investigations. Our trained professionals use advanced techniques to monitor your partner's activities, ensuring transparency and uncovering any hidden issues.
Online Presence
In today's digital age, online activities can reveal a lot about a person. We thoroughly examine your partner's online presence, including social media profiles, to ensure there are no surprises.
Reference Checks
We conduct discreet reference checks to validate the information provided by your potential spouse. This step adds an extra layer of authenticity to our investigations.
Benefits of Pre Matrimonial Investigation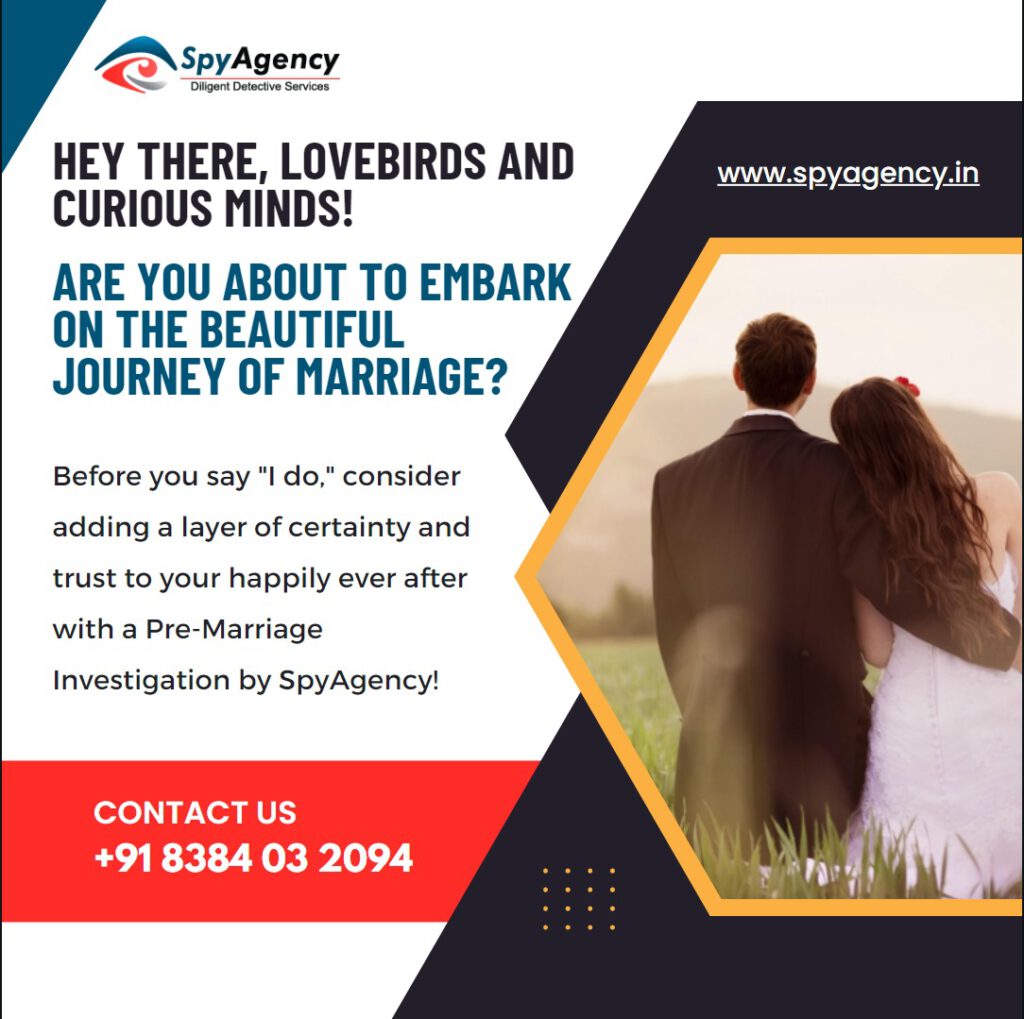 Avoiding Unpleasant Surprises
By uncovering hidden truths and potential issues early on, you can avoid unpleasant surprises after marriage. Our investigations empower you to make informed decisions and build trust.
Protecting Your Future
A failed marriage can be emotionally and financially devastating. A pre-matrimonial investigation safeguards your future by helping you avoid entering into a marriage that may not be in your best interest.
Strengthening Relationships
Open and honest communication is the foundation of any successful relationship. Going through the pre-matrimonial investigation process can encourage open discussions and strengthen your bond.
In the journey of love and commitment, trust and transparency are paramount. Spyagency's pre-matrimonial investigation services exist to help you make one of life's most important decisions with confidence. Our comprehensive approach, including background checks, surveillance, and reference checks, ensures that you have all the information you need to build a strong foundation for your future together.
Frequently Asked Questions (FAQs)
FAQ 1: What is the cost of a pre-matrimonial investigation?
FAQ 2: How long does a typical investigation take?
FAQ 3: Is the information obtained during the investigation confidential?
FAQ 4: Can I request specific areas to be investigated?
FAQ 5: Are pre-matrimonial investigations legal and ethical?