💍 Planning to tie the knot? Ensure a secure and trustworthy future with our Pre-Matrimonial Investigation services. 💑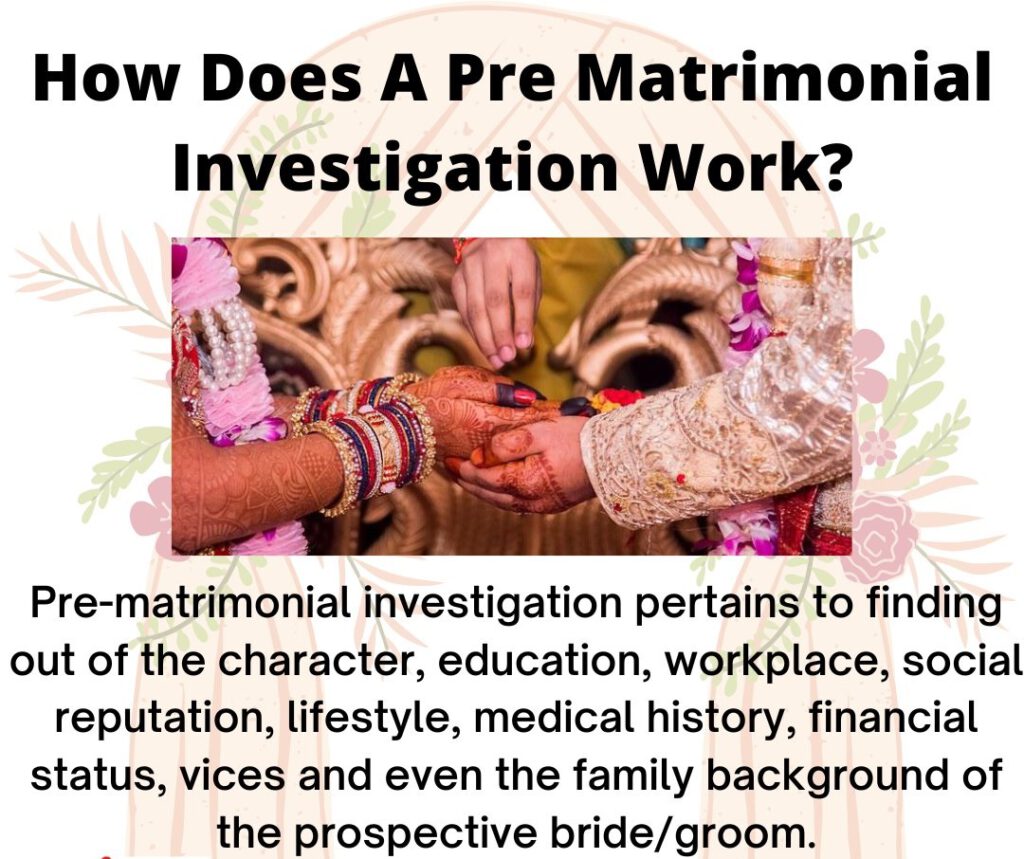 At SpyAgency, we understand the significance of making informed decisions when it comes to life partners. Our professional investigators are here to assist you in unveiling the truth, providing you with peace of mind and confidence in your choice.
Here's why our Pre-Matrimonial Investigation services are a game-changer:
1️⃣ Comprehensive Background Checks: Our experienced team conducts thorough investigations, delving into the prospective partner's personal, professional, and financial background. Trust us to uncover any hidden information that could impact your future.
2️⃣ Relationship History: Worried about undisclosed relationships? We go the extra mile to explore the past, ensuring you have a clear understanding of your partner's previous relationships and any potential complications.
3️⃣ Verification of Education and Employment: Trust is built on honesty. Our investigators verify educational qualifications, professional credentials, and employment history, enabling you to make informed decisions about your partner's career.
4️⃣ Financial Standing: Financial compatibility is crucial for a stable future. Our experts delve into financial records, assessing credit history, assets, liabilities, and any potential hidden financial issues.
5️⃣ Social Media Investigation: In today's digital age, social media plays a significant role in our lives. Our investigators conduct discreet social media checks, uncovering any red flags or inconsistencies that may impact your relationship.
Your happiness and safety are our top priorities. We believe in empowering you with the knowledge to make the right choice for your future.
🔒 Trust, Transparency, and Confidentiality 🔒
Rest assured, all investigations are conducted with the utmost professionalism, confidentiality, and respect for privacy. We understand the sensitivity of the matter and handle every case with the highest level of discretion.
🕵️‍♀️ Discover the Truth Today! 🕵️‍♂️
Don't let doubts and uncertainties overshadow your happiness. Contact SpyAgency today to discuss your pre-matrimonial investigation needs. Our team is ready to support you on your journey towards a secure and blissful future.
Remember, knowledge is power, and with SpyAgency, you can make an informed decision for a lifetime of happiness.